CHALLENGE. INNOVATE. INSPIRE. GROW.
We're the team that reveals the truth about locations. On stage, we build complex data to help our customers answer complex questions about place.
Honored by the Worcester Business Journal as one of the top companies for employee rewards and recognition, Location, Inc. is comprised of a close-knit team developing cutting-edge technologies while working towards a goal that we're proud of.
If you enjoy creating unique, market-disrupting SaaS products and love a good challenge, check out our open positions below.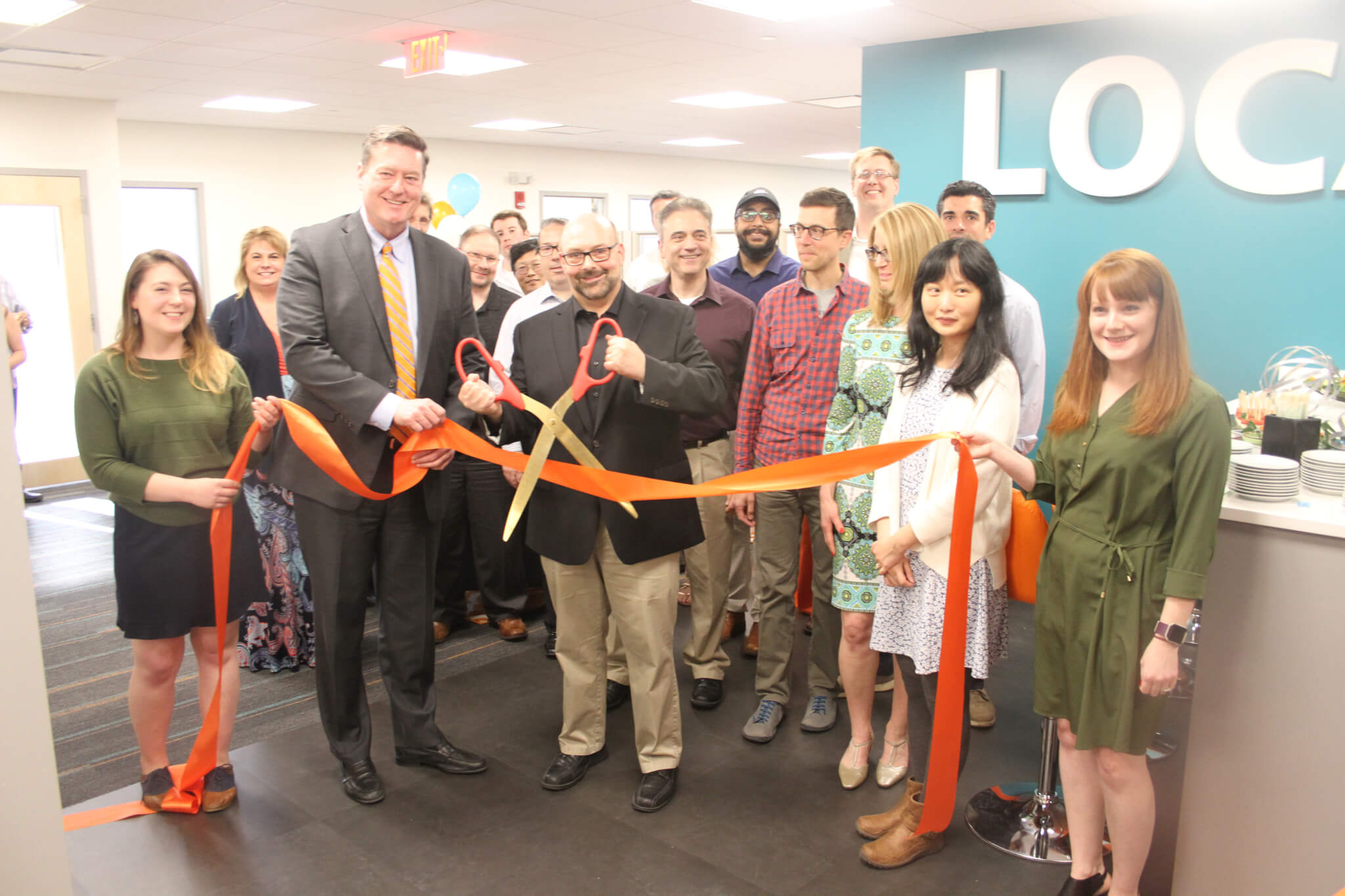 OUR LOCATION, OUR PEOPLE, OUR CULTURE.
Our headquarters are centrally located in New England's 2nd largest city — Worcester, Mass. We're yards away from the commuter rail hub, highway access, and smack dab in the middle of Worcester's "Restaurant Row." Step outside our office and there's no shortage of great pubs, restaurants, greasy spoons, and coffee joints. 5 miles in any direction and you are in quaint New England towns with nationally-ranked schools, historic charm, skiing, biking, swimming, and great housing options. (And we would know, we're the experts!)Our staff is creative, talented and enthusiastic about building products that serve our customers' needs. We work hard, but make room for fun. When we need a break from the workday, we take one! Be it a walk to the park, relaxing in the lounge, or taking a fieldtrip to a new art exhibit, enjoying life is a priority and a perk at Location, Inc. Here are some other perks:
Fridge is always stocked with craft beers
We take-out or go-out to lunch as a bunch, regularly
If we're not here, you can find us at Happy Hour!
OPEN POSITIONS
We are a growing, profitable, venture-backed, big data company looking to expand our fun and talented team by hiring similarly fun and talented people. If you're excited to be a part of something big, are a self-starter with an entrepreneurial spirit, and love to work in a creative, start-up environment, we want to hear from you!
We are a fun and exciting web application and big data company. In order to meet an ever-increasing public demand, we are looking to hire a Senior/Principal Ruby On Rails Full Stack Engineer with outstanding web development and leadership experience. This is an exceptional opportunity for a great developer to become the senior engineer of a small, growing and profitable, venture-backed company.

This position will work from our offices in Worcester, MA (read more about our location, below). Relocation assistance will be offered for the right out-of-area candidate.

What You'll Be Doing:

Leading the incorporation of new features to our newly rearchitected and most popular product
Serving as the Sr. Developer and Team Lead in the technical development of our other real estate and map-based information products
Solving challenging problems working with massive datasets that include crime statistics, schools, lifestyles, neighborhoods and more
Working in an Agile environment writing code and tests you can be proud of
Keeping existing products up-to-date with the latest technologies, architectures, and standards
Advising other parts of the business on technical capabilities and options
Working alongside a nimble, cohesive engineering team
Collaborating with PhD Geographers and Statisticians to create new, disruptive products

What's in it For You:

Help large and small businesses of all stripes make informed decisions by predicting future opportunities and risks at any location – crime, fires, investing futures, and more
A casual, fun working environment, where you can solve some of the most exhilarating Big Data problems in the industry, alongside a team that's as passionate as you are about this stuff!
Competitive salary and great benefits (401(k), medical coverage, 5 weeks paid personal time each year)
Great work/life balance, with 40-45-hour work weeks the norm
Long-term stability with a venture-backed start up that is already profitable and growing
Investors include the founders of MapQuest and CoreLogic

Required Skills & Experience:

5+ years designing and implementing complex, data-heavy web applications
5+ years' experience with Ruby on Rails and PostgreSQL / relational databases, AWS
3+ years' front end development experience with JavaScript, jQuery, HTML, CSS
Experience with design and building Web API development
Experience as a small team leader, tech-lead or similar role
Self-directed time management, documentation and communication skills
Proven, effective ability to work with others
Be passionate about your craft and entrepreneurial in thinking about how engineering can solve business problems

An Ideal Candidate Would Also Possess:

Experience with HAML, SASS
DevOps experience, particularly with Chef and Engine Yard
Data mining experience
Scaling and performance tuning of high-traffic, data-heavy sites; Google Maps JavaScript APIs

Our Environment:

Hand coded Rails 4 & 5, Ruby 2.2, HTML5/CSS3, JavaScript/jQuery
OpenStreetMap, Google Maps API, Engine Yard, Amazon AWS, PostgreSQL/PostGIS
We use all of your favorite tools: JIRA, Confluence, Bitbucket, HipChat, GitHub, Chef, Puppet, Basecamp, Pivotal Tracker, etc.

Our Location:

Yards away from commuter rail hub, highway, pubs, restaurants and coffee shops.
5 miles in any direction and you are in quaint New England towns with nationally-ranked schools, historic charm, and great housing options (and we would know, we're the experts!).

Our Company:

Location, Inc. is a small, high-end geospatial analysis company born of university research, specializing in location-based decision-making tools: analytics, information and data. We license geospatial risk analytics and SaaS products for a host of business to business applications, and run NeighborhoodScout.com, the largest neighborhood search engine in the world, and "the most trusted source for choosing a neighborhood," according to Money® Magazine.

Location, Inc. is an equal opportunity employer.

Interested?

Tell us about yourself and why you would like to work with us! Email careers at locationinc dot com and include a link to your website / portfolio / GitHub / LinkedIn.

We are a fun and exciting web application and Big Data company. In order to meet an ever- increasing public demand, we are looking to hire a driven Quality Assurance Engineer to join our Ruby on Rails product development hosted on AWS. This is an exceptional opportunity to join our small, growing and profitable, venture-backed company.

This position will work from our offices in Worcester, MA (read further about our location, below). Relocation assistance will be offered for the right out-of-area candidate.

What You'll Be Doing:

Creating and maintaining test plans for new and existing features
Testing browser based applications from UX/UI as well functional testing
Ability to triage issues as they arise from customer support, management or your teammates.
Leading and supporting efforts to automate testing
Keeping all departments updated on status of release and communicate obstacles and testing risk
Contributing to the development and release of NeighborhoodScout and SecurityGauge
Supporting IT functions hosting services on AWS, continuous integration, test automation and manual testing
Using modern infrastructure tools and platforms to automate our systems
Solving challenging problems working with massive datasets that include crime statistics, schools, predicting real estate values years into the future, predict fire and water damage, and more
Collaborating with PhD Geographers and Statisticians to deliver new, disruptive products

What's in it For You:

Help large and small businesses of all stripes make informed decisions by predicting future opportunities and risks at any location – crime, fires, investing futures, and more
A casual, fun working environment, where you can solve some of the most exhilarating Big Data problems in the industry, alongside a team that's as passionate as you are about this stuff!
Competitive salary and great benefits (401(k), medical coverage, 5 weeks paid personal time each year)
Great work/life balance, with 40-45-hour work weeks the norm
Long-term stability with a venture-backed start up that is already profitable and growing
Investors include the founders of MapQuest and CoreLogic

Required Skills & Experience:

3+ years professional work experience
Proficient with Amazon Web Services (EC2, RDS, SQS, CloudFront), Route53, ELB
Tools: JIRA, Confluence, Bitbucket, HipChat, Github, Chef, Puppet
Continuous integration, Version Control Systems (Semaphore, Jenkins), Test Automation
Experience or exposure to Agile/SCRUM is ideal
RSpec, Capabara, Selenium, Code coverage tools
Experience with API testing
Passion for breaking things!

An Ideal Candidate Would Have Familiarity With:

MVC frameworks (Ruby on Rails, Symfony, Spring, Grails) a strong plus
HTML/JS frameworks (jQuery, Bootstrap, Foundation)
Frameworks: Ruby on Rails, Bootstrap, etc.
Jira for Bug Tracking and Reporting

Our Location:

Yards away from commuter rail hub, highway, pubs, restaurants and coffee shops.
5 miles in any direction and you are in quaint New England towns with nationally-ranked schools, historic charm, and great housing options (and we would know, we're the experts!).

Our Company:

Location, Inc. is a small, high-end geospatial analysis company born of university research, specializing in location-based decision-making tools: analytics, information and data. We license geospatial risk analytics and SaaS products for a host of business to business applications, and run NeighborhoodScout.com, the largest neighborhood search engine in the world, and "the most trusted source for choosing a neighborhood," according to Money® Magazine.

Location, Inc. is an equal opportunity employer.

Interested?

Tell us about yourself and why you would like to work with us! Email careers at locationinc dot com and include a link to your website / portfolio / GitHub / LinkedIn.

Big data. Location-based intelligence. Smart technology. These industries are growing exponentially and Location, Inc. in Worcester, MA harnesses them all.

The Business Development Representative (BDR) is responsible for placing and receiving calls from prospects while communicating key product information. This includes obtaining prospects operational and financial data with a qualification questionnaire. Through the qualification process the representative must use sound judgment to determine the probability of success between product capabilities and prospects needs. It is essential for the person in this position to become map and data savvy and understand the small to mid-sized business market.

What You'll Be Doing:

Respond quickly and accurately to incoming inbound sales leads through phone calls, click-to-call requests and live web chat requests
Qualify and grade all inbound lead sales inquiries
Research all web leads for further qualification
Call all web leads and qualify/grade
Call/respond to all email leads
Conduct outbound/proactive calling coupled with campaigns and meet required call per day targets
Handle all special campaign related lead tracking processes
Enter Event generated leads into the Marketing and Sales CRM systems
Conduct proactive visitor outreach for web visitors
Conduct lead re-qualification or data/contact updates
Hot transfer or set appointments for qualified leads
Find creative ways to push past rejection to engage potential prospects
Inside Sales for company SaaS applications.

Expected Skills & Experience:

Excellent oral and written communication skills
Demonstrate good decision-making ability
Ability to build and maintain trust with customers through open, honest and timely responses in the interest of long term partnerships
Ability to listen to customer expectations and initiate product requirements
Excellent understanding regarding product capabilities and customers requirements
Exceptional customer service and account management capabilities
Ability to work differential hours based on regional customer business hours and requirements of a specific transaction
Proficiency with MS Office applications, CRM applications
Experience with Salesforce and SharpSpring is a plus
Committed team player

Why Us?

Opportunity to join us in the growth stage from late start up to one of the most widely used Location-Based Analytics, Information and Data resources in the nation
Highly competitive compensation plan
Horizontal organizational structure provides great opportunity to make an impact
Five new products introduced in 2017
Great location, walkable to 40 restaurants/cafes, train station
Easy commute, yards from Interstate 290
Casual dress code
Profitable, stable company

To Apply:

This is an excellent opportunity to play a critical role on a growing team. If you meet the position's qualifications and wish to apply, please send the following: 1) Resume that indicates relevant experience and proven track record in sales;  2) Cover letter stating how you would be a good fit for the company and position.

Location, Inc. is an equal opportunity employer.

About Location, Inc.

Location, Inc. is a small but rapidly growing high-end geographic research and data mining company born out of university research and one of the leading providers of location-based data and tools used by corporations for risk analysis.

Location, Inc. specializes in location analysis, quantifying and mapping of crime and other risks, demographic and school data information products, and location-based decision-making tools for businesses and consumers. More than 60 million people and businesses have used Location, Inc. data and services since the Company's 2000 inception, including its well-known NeighborhoodScout website for consumers. Our analyses have appeared in top national media such as The Wall Street Journal, CNN, Money Magazine, BusinessWeek, The New York Times, Forbes, and US News & World Report.

Big data. Location-based intelligence. Risk analytics. These industries are growing exponentially and Location, Inc., in Worcester, MA, harnesses them all.

The Sales Representative is an onsite, independent role with a focus on closing large deals through outbound selling. If you are a hard-working, technologically-versed entrepreneurial hunter with results-proven sales experience in SaaS or B2B data products, you may be a great fit for us.

What You'll Be Doing:

Execute on outbound sales (cold calls, follow up, close) on a consistent and growing basis
Respond to and provide follow up to inbound sales inquiries
Demonstrate products through screen sharing
Maintain technical knowledge and understanding of products and of competing products
Build relationships, creating a strong client portfolio consisting of senior management contacts
Effectively connect Location, Inc. solutions to solving client's business challenges
Provide superior customer follow up and support pre- and post-sale
Gain market and customer insight for the purpose of developing new Location, Inc. products and product features
Represent Location, Inc. at conferences/trade shows

Desired Skills & Experience:

5+ years of B2B sales success in technology related sales environment
Well-versed in selling SaaS applications, data and/or analytics products
Consistent overachievement of sales revenue goals
Dyed-in-the-wool entrepreneurial hunter with strong business acumen
Excellent oral and written communication skills
Ability to be self-disciplined in regular customer contact and sales activity management
Highly competent at handling complexities and problems, and at dealing with new concepts
Four year college degree, in business or related field
Proven ability to identify and get to the right buyer in a large company
Proficiency with MS Office applications and CRM applications
Experience with Salesforce and SharpSpring is a plus

Why Us?

Opportunity to join us in the growth stage from late start up to one of the most widely used location-based analytics, information and data resources in the nation
Horizontal organizational structure provides great opportunity to make an impact
Shrewsbury Street office, walkable to 40 restaurants/cafes, train station
Easy reverse commute, 50 yards from Interstate exit
Casual dress code
Profitable, stable company

About Location, Inc.

Location, Inc. is a small but rapidly growing geographic research and data mining company born out of university research and one of the leading providers of location-based data and tools used by corporations for risk analysis.

Location, Inc. specializes in location analysis, quantifying and mapping of crime and security risks, structure fire risk, demographic and school data information products, and location-based decision-making tools for businesses and consumers. More than 65 million people and businesses have used Location, Inc. data and services since the Company's 2000 inception, including its well-known NeighborhoodScout website for consumers. Our analyses have appeared in top national media such as The Wall Street Journal, CNN, Money Magazine, BusinessWeek, The New York Times, Forbes, and US News & World Report.

Location, Inc. is an equal opportunity employer.

If you are a talented stats geek with experience in spatial data and seeking to play a critical role in the Big Data world, are on top of your game with advanced predictive statistics, and you have an impressive academic record — consider applying to join our team!

What You'll Be Doing:

Collect, analyze and update geographic and real estate data with statistics — schools, crime, demographics, and more
Build the data into usable information products for businesses and consumers, including our nationally renowned website for home buyers, NeighborhoodScout.com

What's in it For You:

Your work will be seen by more than 10 Million people every year
Work with industry leading spatial data thinkers and analysts on cutting edge research
Significant potential to become a leading member of our analytics team
Casual fun working environment, exploring some of the most exhilarating Big Data problems in the industry, alongside a team that's as passionate as you are about this stuff!
Competitive salary and great benefits (401(k), health insurance, 11 paid holidays)
Great work/life balance with 40-45 hour work weeks the norm for full time
Long term stability with a venture backed start up that is already profitable and growing
Investors include the Founders of MapQuest and CoreLogic

Desired Skills & Experience:

Masters Degree in related field (Ph.D. preferred)
Strong experience with data manipulation, multivariate statistical models, regression, factor, cluster, and other predictive statistical methods.
Expert SPSS syntax programming skills
Experience with US Census Data and other geographic data
Adept at managing data in Excel, Access (or other spreadsheets/databases)
Proven ability to quickly research and find very esoteric sources for data
At least 1 year private sector experience, post-graduation
Excellent written and spoken communication skills, and solid interpersonal skills
Emotionally mature, dependable Excited about using geographic data to create powerful, enterprise-changing products that reveal the truth about our world.

An Ideal Candidate Would Also Possess:

Experience using ArGIS
Innovation, resourcefulness and initiative
Ability to be a self-starter and work independently

Our Location:

Yards away from commuter rail hub, highway, pubs, restaurants and coffee shops.
5 miles in any direction and you are in quaint New England towns with nationally-ranked schools, historic charm, and great housing options (and we would know, we're the experts!)

Our Company:

Location, Inc. is a small, high-end geospatial analysis company born of university research, specializing in location-based decision-making tools: analytics, information and data. We license geospatial risk analytics and SaaS products for a host of business to business applications, and run NeighborhoodScout.com, the largest neighborhood search engine in the world, and "the most trusted source for choosing a neighborhood," according to Money® Magazine.

Location, Inc. is an equal opportunity employer.