FIRE RISK™ – Predicting the Likelihood a Location Will Experience Fire Loss
Location, Inc.'s high-resolution geospatial FIRE RISK product helps personal and commercial lines insurers address one of the industry's biggest challenges: Structure fire losses due to negligent human behavior.
Built upon over a decade of research, Location, Inc.'s FIRE RISK product provides over 11 million geospatial points of fire risk. This allows carriers to segment territory descriptions with unprecedented precision.
Testing FIRE RISK™ against a holdout data set of over $3 billion in homeowner's premium, including a mix of very large and mid-tier carrier data where pricing already reflects the use of credit and Public Protection Classification, shows more than 4.5 times difference in fire loss ratio experience from lowest FIRE RISK category to highest FIRE RISK category (analyzed with equal premium in deciles).
This represents the opportunity for significant lift in premium adjustments and, with a 42% leap in loss ratio from category 9 to 10, potential to explore significant adjustments in underwriting bind decisions in the 10th category.
Applying these fire loss ratio results to the $74 billion homeowners insurance industry as a whole reveals the opportunity for the industry to make $19 billion in premium adjustments and reduce claims by $1.2 billion annually. The combination of these two factors produces a significant improvement in overall operating ratio experience.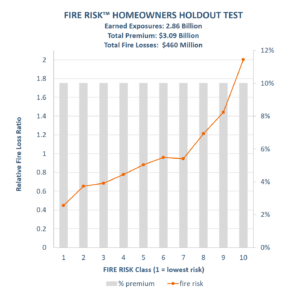 FIRE RISK contains no red-lining, no data about race, ethnicity, ancestry, language, religion, any protected class, income, educational attainment, or occupations of any kind.