Scout Vision® Predictive Neighborhood Home Values and Appreciation Rates for the Future 3-5 Years


Mitigating risk when evaluating future home values is the top challenge for all professionals with real estate exposure. 
Whether you are investing in real estate, providing a bridge loan for a construction project, or purchasing mortgage-backed securities, they all require a keen understanding of the future value of the underlying assets.
Solving for risk requires a fundamentally new, precise method of forecasting.
The model must account for significant differences in home values and appreciation within a ZIP code, or even hyper-local Micro-Neighborhood, during the most advantageous investing timeframe.
---
Introducing Scout Vision® Enterprise.
Industry veterans and PhD geographers have developed Scout Vision by drawing on over a decade of research and development and leveraging the latest geo-statistical techniques and theory. As a result, Scout Vision uniquely solves for risk by generating home appreciation projections with unprecedented geographic granularity and predictive accuracy. Scout Vision offers: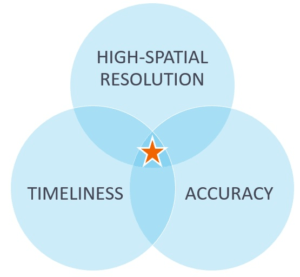 Three- and five-year property appreciation forecasts with up to 90% predictive accuracy.
Exclusive appreciation forecasting at the Micro-Neighborhood level (nearly 10X smaller than a ZIP code).
100% complete, seamless national coverage.
Built upon 200+ independent variables, 35+ unique data dimensions, and 20+ custom, geographically-nested, hierarchical models.

Get the most timely, accurate, high-spatial resolution tool for predicting home values and appreciation rates across all U.S. markets.  Scout Vision Invest with Vision®
---
The power of precision.
Scout Vision digs deep within ZIP codes to reveal Micro-Neighborhood-level pockets of investment risk and opportunity, as this example from Buffalo, NY demonstrates (Figure A). At just a handful of city blocks in size, Micro-Neighborhood 1 on the map is expected to depreciate 1.1% over the next 3 years, while Micro-Neighborhood 2 is expected to appreciate by 10.1%.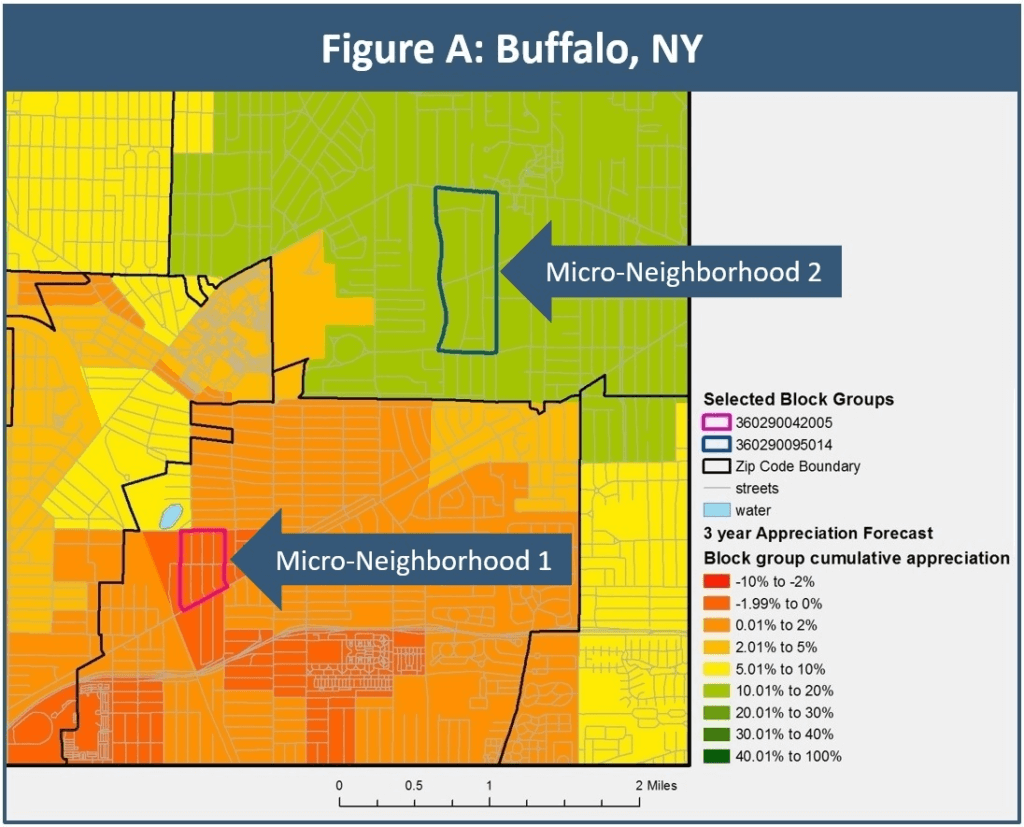 Scout Vision pinpoints these tiny regions of risk and opportunity with high precision and accuracy. Furthermore, even within the single ZIP code shown in this map, three variations in home appreciation are revealed at the micro-neighborhood level.
Consequently, you are no longer limited to making high-value business decisions at broad county, metro, or ZIP code levels. Scout Vision breaks through these barriers to reveal true Micro-Neighborhood level asset appreciation details.
---
Put Scout Vision to work.
Scout Vision Enterprise provides Micro-Neighborhood geographic resolution, as well as precision home values forecasting, trend, and score categories.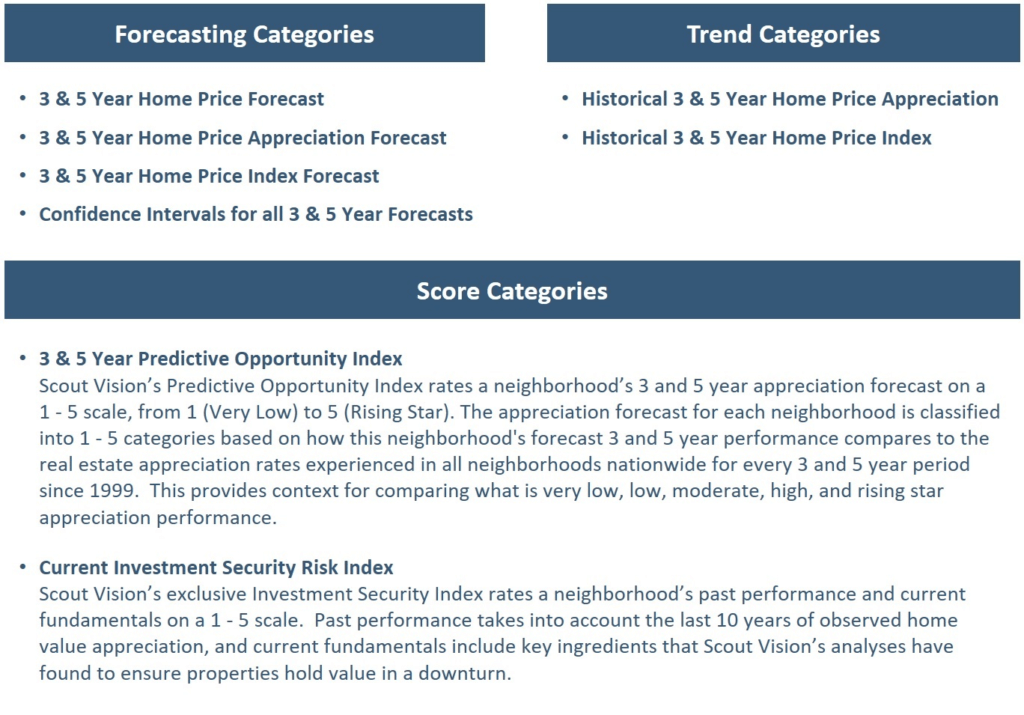 The chart below shows the exclusive, Micro-Neighborhood data you can expect from Scout Vision Enterprise.

---
License Scout Vision Enterprise Today.
For real estate investment firms with 500+ properties or companies needing API or large bulk file processing, request a data sample of up to 10 addresses and discover what Scout Vision Enterprise can do for your firm.
For real estate investment firms with fewer than 500 properties or individuals with independent investments, take advantage of Scout Vision's forecasting capabilities through a NeighborhoodScout Pro subscription.
---
Scout Vision contains no red-lining, no data about race, ethnicity, ancestry, language, religion, any protected class, income, educational attainment, or occupations of any kind.