Seek and You Will Find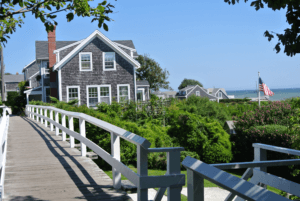 Did you know that in 1970, it was cheaper to purchase residential property in Nantucket than in the old industrial city of Bridgeport, Connecticut?
Yet by 1989, Nantucket had become some of the most expensive real estate in the world, while Bridgeport today is less expensive than the U.S. average. Where are those places today—the ones that look like Nantucket in 1970?
Scout Vision's exclusive 5-year Home Price Forecast helps you be the first to find the next Nantucket in any market, by providing a looking glass into every neighborhood in the United States.
---
If You Invested Here 5 Years Ago
To demonstrate Scout Vision's predictive capabilities, below is a list of the Top 10 locations that Scout Vision forecasted, based on current conditions in 2011 (Q3) to appreciate in value the most by 2016 (Q3) (5 years). For comparison, the table displays forecast and actual appreciation for each location.
Imagine if you had invested equally across these locations in 2011. You would have averaged a return of 74% in 5 years. In contrast, the national average return was just 23%—less than one-third the return you would have realized.
---
Rank 

Highest Forecasted Appreciation ZIP Codes

Location Containing ZIP Code

Forecasted Appreciation by ZIP Code




(2011-2016)

Actual Appreciation
by ZIP Code
(2011-2016)

Median Home Value by ZIP Code (2016 (Q3))

1.

58801

Non-metropolitan, ND

81.7%

86.9%

$250,438

2.

95205

Stockton-Lodi, CA

79.1%

63.6%

$147,665

3.

85040

Phoenix-Mesa-Scottsdale, AZ

77.4%

84.4%

$135,601

4.

85031

Phoenix-Mesa-Scottsdale, AZ

73.3%

107.9%

$110,827

5.

93905

Salinas, CA

69.9%

62.1%

$316,349

6.

85035

Phoenix-Mesa-Scottsdale, AZ

68.9%

69.6%

$122,033

7.

85041

Phoenix-Mesa-Scottsdale, AZ

68.6%

65.5%

$156,465

8.

95363

Modesto, CA

68.4%

66.5%

$282,838

9.

85017

Phoenix-Mesa-Scottsdale, AZ

68.0%

74.2%

$113,956

10.

95368

Modesto, CA

67.4%

54.4%

$272,238
---
Now, you can determine how a location's past and future forecast home price appreciation rates compare across Metro Areas, ZIP Codes, or even among Micro-Neighborhoods™ below ZIP Codes (nearly 10X smaller than the average ZIP Code), with seamless national coverage. Simply provide an address.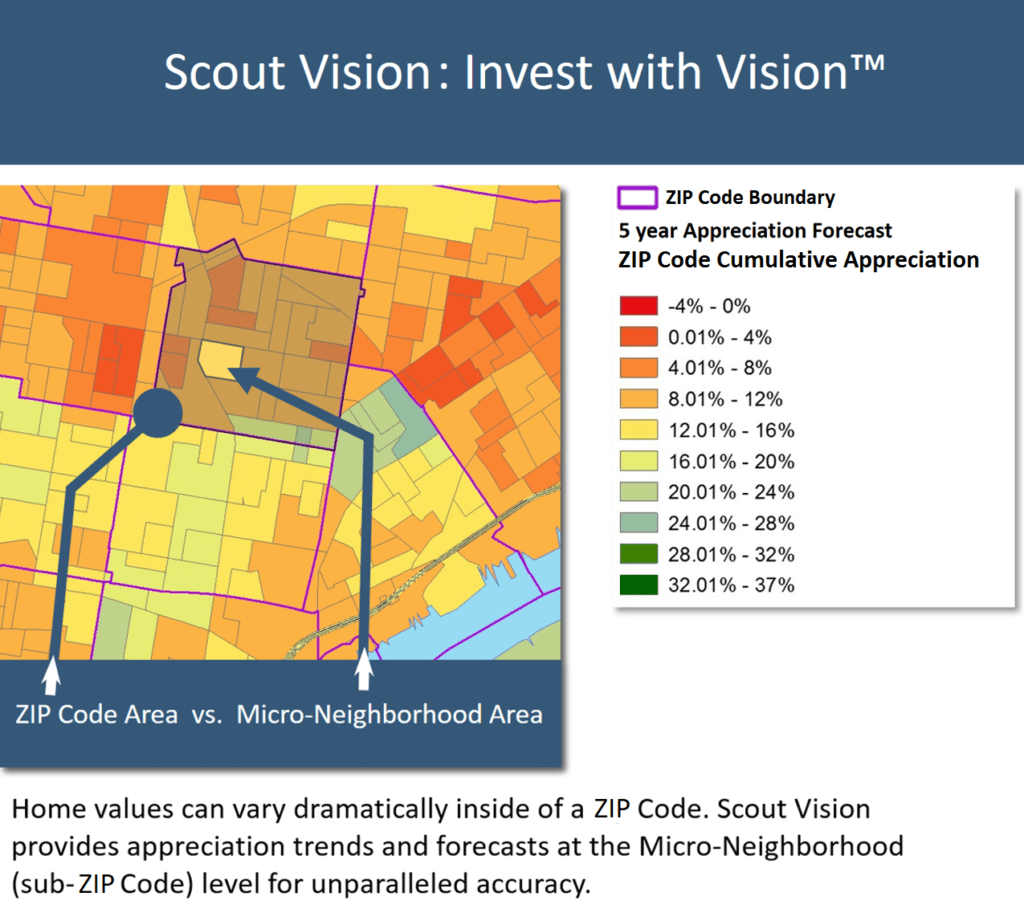 Determine which neighborhood appreciates the most through both up and down real estate markets. Uncover exclusive insights into which neighborhoods are likely good investments for the future. Request a data sample for up to 10 addresses of your choice and start putting Scout Vision to work.

---
About the Data
Industry veterans and PhD geographers developed Scout Vision by drawing on over a decade of research and development and leveraging the latest geo-statistical techniques and theory. Scout Vision's 5-year Micro-Neighborhood™ Home Price Forecast is based on 200+ independent variables, 35+ unique data dimensions, and 21 custom, geographically nested, hierarchical models that capture market forces which operate at various spatial and time scales to drive price changes block by block.
Thus, Scout Vision uniquely identifies otherwise unseen opportunity by generating home appreciation projections that combine unprecedented geographic precision with up to 90% predictive accuracy.
---
License Scout Vision Enterprise today
For real estate investment firms with 500+ properties or companies needing API or large bulk file processing, request a data sample of up to 10 addresses and discover what Scout Vision Enterprise can do for your firm.
For real estate investment firms with fewer than 500 properties or individuals with independent investments, take advantage of Scout Vision's forecasting capabilities through a NeighborhoodScout Pro Subscription.
---