HailRisk™ by Location, Inc.—predicting the property locations that are most susceptible to hail damage loss claims.
Not all hom

eowners faced with h

ail suffer the same degree of damage or file a claim.
The Insurance Information Institute attributes $9B in property damage over the last 5 years (2012-2016) to hail. In 2016 alone, there were 5,601 major hail storms, according to the NOAA's Severe Storms database.
Even within the same hail event, not all homeowners suffer the same degree of damage or file a claim. Most companies, however, solely focus on where hail is going to occur, treating all policy holders within the same hail climatology hazard zone equally.
Uncover the true risk of hail damage insurance losses by location.
HailRisk analytics takes the innovative approach of predicting the property locations that are most susceptible to hail damage loss claims within any hail climatology hazard zone, and for any U.S. address. This reveals fine-grained insurance risks previously unidentified, delivering up to 20x risk segmentation.
---
Precision risk models, powerful insights.
For any weather-related hazard—including hail—the susceptibility of insurance loss is due to the interaction of the hazard with property vulnerability. Vulnerability arises from the interplay of people, structure characteristics, and location.
Using this approach and an industry database made up of millions of policy records, Location, Inc. is able to generate a HailRisk Score for any U.S. address. This score predicts vulnerability to hail damage—the higher the score, the more likely there will be hail losses.
By parsing hail-prone areas into precise locations of greatest and lowest claims risk, HailRisk captures a high degree of differentiation, empowering insurers to:
Price policies commensurate with real risk. Reduce prices where the risk is lower to capture more policies and reduce the risk of the overall book. Increase prices where risk is greater to profitably write higher risk policies or avoid high-risk, high-loss policies and improve profitability across your book.
Improve underwriting performance. Instantly assess the risk of hail insurance net losses when underwriting new policies. Also, assess risk across your book when it is time for renewal.
Target low-risk locations with laser precision. Determine the neighborhoods with the lowest total risk of hail claims to market effectively and attract more low-risk policies.
---
HailRisk in action.
Testing HailRisk analytics against a holdout data set of more than $1.02B in homeowners' premiums from mid-tier carrier data, where it is expected that pricing already reflects the use of data like credit, showed more than a 36.5 times difference in hail loss ratio from the lowest to the highest HailRisk category (analyzed with equal premium in deciles).
This represents the opportunity for significant lift in premium adjustments and, with a 40.4% leap in loss ratio from category 9 to 10, the potential to explore major adjustments to underwriting guidelines or an eligibility line for the 10th decile.
Extrapolating these loss ratio results to the $74B homeowner insurance industry as a whole reveals the opportunity to make $30.6B in premium adjustments and reduce claims by $6.9B annually. The combination of these two factors produces a significant improvement in overall operating ratio experience.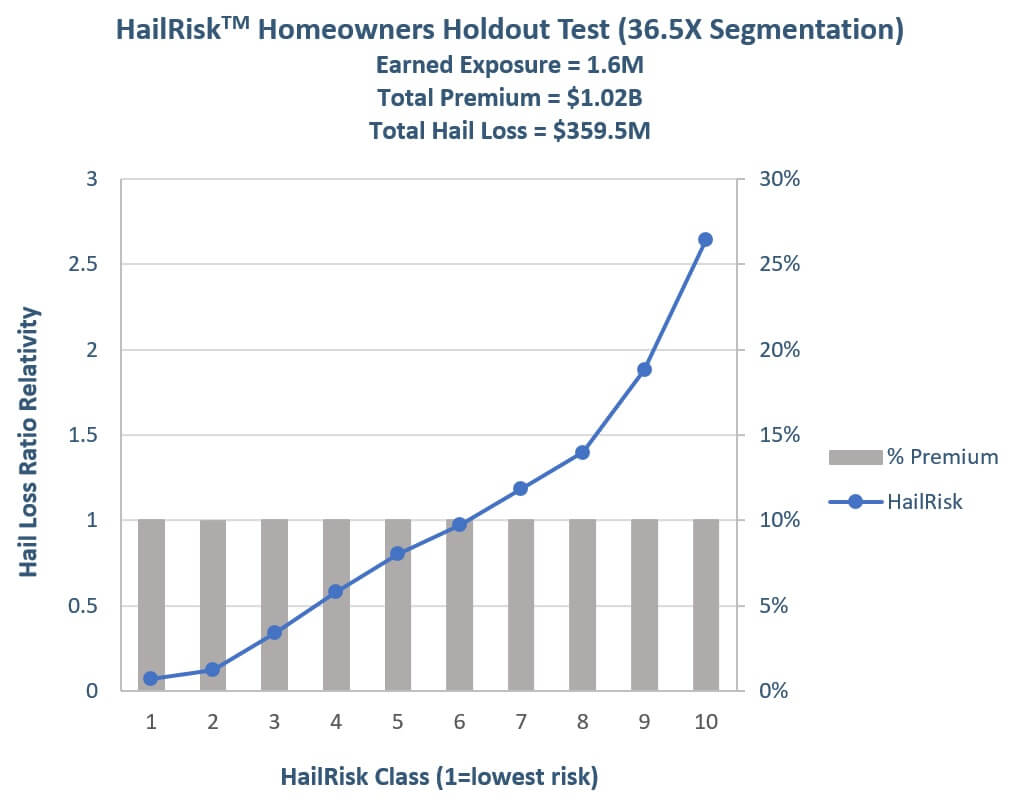 ---
Put HailRisk to work.
HailRisk helps insurance carriers segment territories with unprecedented precision and includes:
Over 11 million geospatial points of risk
High-resolution census block level granularity (~11 million blocks, more than 400X the detail of the average ZIP Code)
100% seamless national coverage for the U.S.
Normalized data for accurate predictions across the U.S.
No redlining
Contact us to learn more about the alternative revenue impact on your own book of business.
---
HailRisk data contain no red-lining, no data about race, ethnicity, ancestry, language, religion, any protected class, income, educational attainment, or occupations of any kind.