Media Contact:
Marketing Department
Location, Inc.
Tel: (508) 753-8029
Email:marketing@locationinc.com
FOR IMMEDIATE RELEASE:
Location, Inc. Launches Highest Resolution Crime Analytics Available for Canadian Market
Only Location, Inc. uniformly compares crime between U.S. and Canadian addresses, enabling retailers, insurers, and investors to make better business decisions
Worcester, Mass., March 1, 2017 — Location, Inc., a leading provider of location-based analytics, has launched the highest resolution crime analytics available in Canada, providing exclusive U.S.-Canadian total, violent and property crime comparisons.
"Location, Inc. offers the best, most spatially accurate crime analytics available today," said Dr. Andrew Schiller, CEO and Founder of Location, Inc. "With seamless national coverage of violent and property crime risk for any address, our exclusive data now provides both U.S. and Canadian retailers, insurers, and real estate investors with out-of-the-box predictive analytics to understand and proactively manage exposure to crime risk."
For its Canadian crime analytics, Location, Inc. collects raw data reported from 544 Police Service Areas for the country and passes this crime incident and severity information through hundreds of sophisticated spatial algorithms to process the approximately 800,000 reported crimes. The result is nationally comparable crime data of unprecedented accuracy, with seamless coverage for every dissemination area (Canada's smallest, standard geographic area for census data) and address in Canada.
"We're really excited about using Location Inc.'s crime data to help us make smarter investment decisions in both our U.S. and Canadian businesses," said Britanya Hehn, Sr. Manager, Loss Prevention Operations at Old Navy. "The ability to scale our loss prevention models to include both countries was key. Location, Inc. helped us achieve this goal by providing an accurate, uniform U.S.-Canadian crime comparison across all of our Old Navy stores."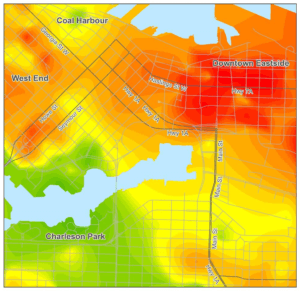 "We offer two very unique value propositions to the Canadian market," explained Dr. Schiller. "First, we have the highest-resolution crime data available—specifically 56,000+ geographic units or dissemination areas—for unparalleled accuracy. Next, we normalize the data, making it easier to not only accurately interpret crime statistics at the local and neighborhood level within Canada, but we are also the first to offer this capability between Canada and the U.S."
Location, Inc.'s Crime Analytics for the U.S. and Canada are available via API and bulk file processing. To learn more, contact Location, Inc.
Location, Inc.'s Crime Analytics contain no red-lining, no data about race, ethnicity, ancestry, language, religion, any protected class, income, educational attainment, or occupations of any kind.
About Location, Inc.
Location, Inc. is a geographic research and data mining company born of university research and a leading provider of location-based data and tools used by corporations for risk analysis. Location, Inc. specializes in location analysis, quantifying and mapping of crime and security risks, structure fire risk, demographic and school data information products, and location-based decision-making tools for businesses and consumers. More than 65 million people and businesses have used Location, Inc.'s data and services since the Company's 2000 inception. For more information, visit www.LocationInc.com.