Media Contact
Marketing Department
Location, Inc.
Tel: (508) 753-8029
Email:marketing@locationinc.com
FOR IMMEDIATE RELEASE:
Location, Inc.® Launches Enterprise Data and Analytics Catalog
Insurers, real estate investors, and businesses gain first ever real-time API access to extensive NeighborhoodScout® catalog of location-based data – including crime risk and demographics – for any address nationwide
Worcester, Mass., April 9, 2018 — Location, Inc., a leading provider of location-based analytics, announced that its comprehensive catalog of 650+ data elements and analytics – including the company's NeighborhoodScout.com data – are now available via API, with the ability to purchase a-la-carte.
"We are excited to give our insurance, real estate, and enterprise clients the ability to pick and choose the data elements that drive their specific websites, applications and businesses," said Dr. Andrew Schiller, CEO and founder of Location, Inc. "Getting this level of location intelligence, from one trusted source, is key – whether our clients are focused on lead generation, product improvement, or internal analysis and enhanced ROI efforts."
The data and analytics catalog can be viewed in its entirety though an easy-to-navigate page on Location, Inc.'s website. In total, the catalog's data products each consist of multiple data categories that can be purchased a-la-carte.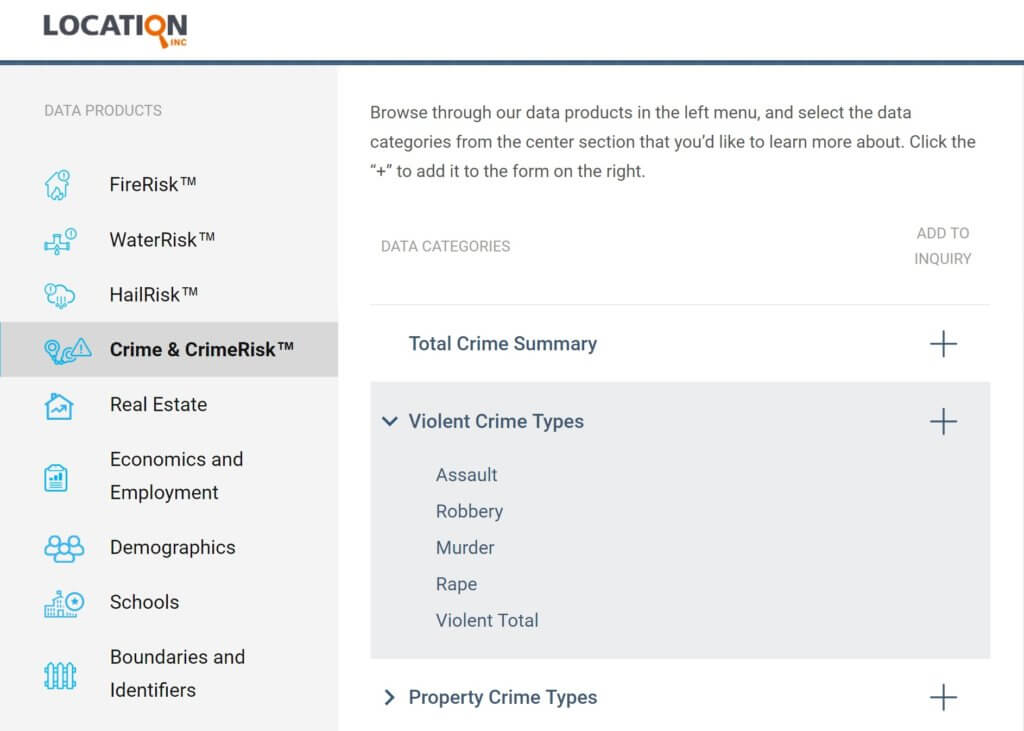 Visit Location, Inc. to browse the entire data and analytics catalog or contact sales@locationinc.com for more information.
About the Data Products
Crime uses hundreds of sophisticated spatial algorithms to process 9 million+ reported crimes into nationally comparable crime data. With seamless, 100% national coverage, and resolutions ranging to address-specific, businesses can know the crime risk –including murder, rape, robbery, assault, burglary, theft, and motor vehicle theft – for every location, easily compare crime rates across locations, and unlock crime trends and crime forecasts to know if crime at any location is declining or rising.
CrimeRisk, FireRisk, WaterRisk, and HailRisk (for Insurance) help minimize the financial risk of a loss given existing premiums using predictive, location-based analytics, empowering insurers to mitigate risk at three key stages: Underwriting, product design, and policy pricing.
Real Estate provides the only Micro-neighborhood™ housing market insights with exclusive market rent prices by number of bedrooms, house values, the only sub ZIP Code HPI (including trends and forecasts), property taxes and effective tax rate, gross rental yields, housing stock profiles, physical neighborhood setting, seasonal and year-round vacancy rates, owner/renter mixes, and more.
Economics and Employment offer a bi-directional perspective of employment: what are the types of employers that residents work for, and what occupations have those residents chosen. Is there a major company in the area providing the majority of employment for the residents? Do the occupations in the area match the target profile for renters or buyers? Income and unemployment rates also help investors determine the strength of the local employment economy.
Demographics derive insights from hundreds of raw inputs to produce one-of-a-kind data patterns for population, migration, lifestyle suitability, life event marketing (first-time home buyers, luxury, families with children, college student-friendly, young single professionals, retirement lifestyles), walkability, cultural character, education, incomes, ages, employment, diversity, and more.
Schools offer the only patented, nationally comparable school ratings based on test scores, enabling a direct comparison among public schools – even across state lines. Location, Inc.'s school data also include class sizes, learning environment, types of students, educational expenditures, and more.
Boundaries and Identifiers are fully compatible with Location, Inc.'s entire suite of risk and location-based data products, including crime, real estate, economics and employment, demographics, housing values, and school quality. The company's geofence boundaries provide the highest level of population and land mass coverage, with seamless, 100% national coverage.
About Location, Inc.
Location, Inc. is a leader in geographic data sciences, providing street-and address-level location intelligence and predictive analytics for businesses across the U.S. and Canada via web-based reports and streaming data. Since 2000, the company has amassed highly accurate and comprehensive catalogue of spatial data products, with complete, national coverage and sub-ZIP Code granularity. A pioneer in building micro-spatial data products, Location, Inc. specializes in real estate market insights and projections, and crime and hazard risk products for the real estate, insurance and finance sectors. More than 70 million people and businesses have leveraged the company's data products to make informed location decisions, fuel major investments, mitigate risk, protect assets, and uncover opportunity. For more information, visit www.locationinc.com.