Media Contact:
Marketing Department
Location, Inc.
Tel: (508) 753-8029
Email: marketing@locationinc.com
FOR IMMEDIATE RELEASE:
NeighborhoodScout® Adds Gross Rental Yield Data to its Reports for Investing, Appraising, and Financing Real Estate
NeighborhoodScout provides instant, one-stop access to crime and real estate data at the neighborhood level, revealing locations with the best investment opportunities.
Worcester, Mass., January 23, 2018 — NeighborhoodScout announced that its reports now contain gross rental yield data for every U.S. neighborhood, at the block group level (10x more granular than the average ZIP Code). NeighborhoodScout is a web-based platform with custom analytics and reports for investing, appraising, and financing real estate.
The combination of gross rental yield data with NeighborhoodScout's precision crime and vacancy rates/trends data provides a one-stop solution for evaluating properties in the neighborhoods that best fit investors' financial profiles.
"Gross rental yield varies a lot by neighborhood, and the highest yield isn't always the goal. Neighborhoods with very high gross rental yields may have conditions that decrease your net rental yield," explains Dr. Andrew Schiller, CEO and Founder of Location, Inc. and NeighborhoodScout. "Other factors, including high crime, higher vacancy rates and transience means you will have a harder time getting and keeping good tenants, and sometimes difficulty collecting rent when you do have tenants."
For example, consider three directly adjacent neighborhoods in Worcester, the second largest city in Massachusetts (see Figure 1).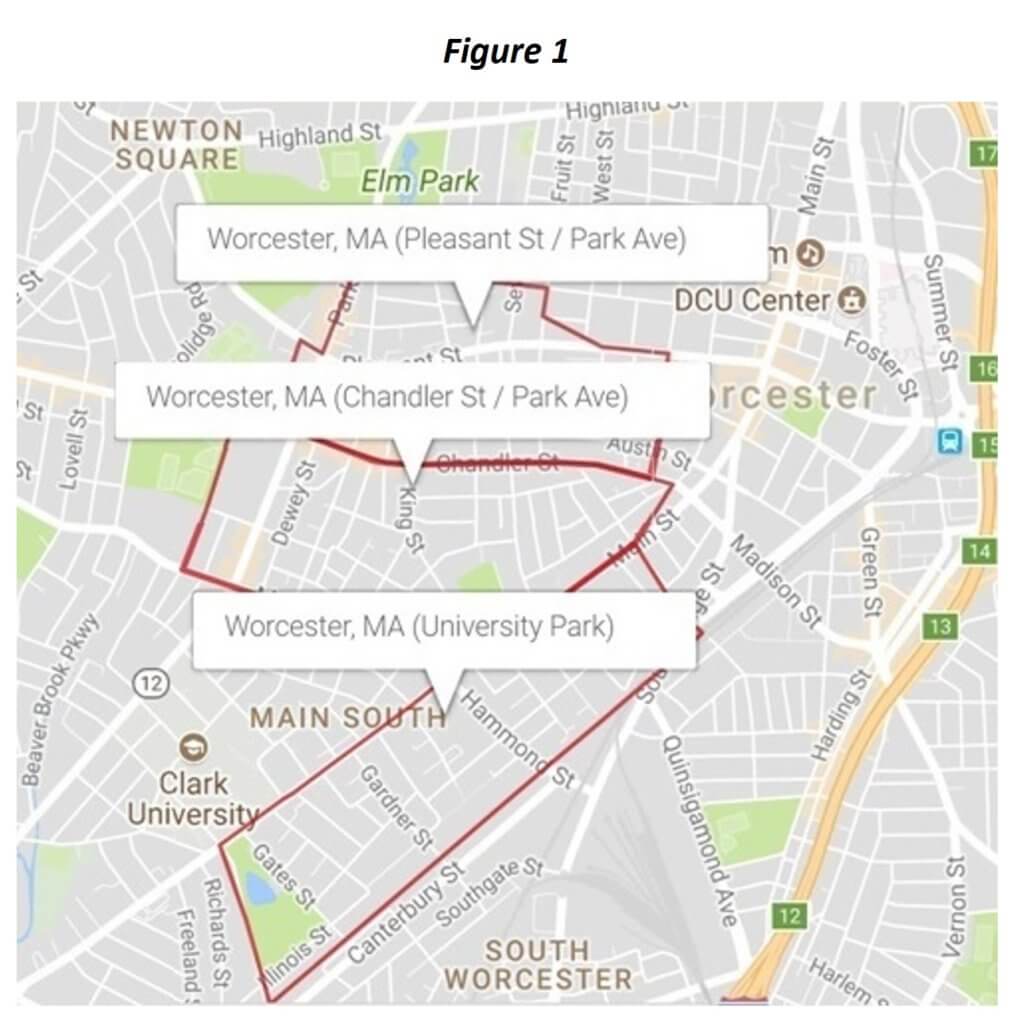 Despite their proximity to each other, these neighborhoods vary in terms of gross rental yield – and crime (see Figure 2).

The Pleasant St./Park Ave. neighborhood's gross rental yield is among the lowest in the metropolitan area (5.65%).
In contrast, nearby Chandler St./Park Ave.'s 12.38% gross rental yield is among the highest in the metropolitan area. However, NeighborhoodScout's crime data, shows that this neighborhood also has one of the highest total crime rates per 1,000 residents in America.
To the south is the University Park neighborhood. While its gross rental yield isn't quite as high as Chandler St./Park Ave., University Park's total crime rate per 1,000 residents is lower. As a result, of the three neighborhoods profiled, NeighborhoodScout data suggest that University Park would likely offer the best net rental yields despite a lower gross rental yield.
Visit NeighborhoodScout to view a sample report and subscription options. For more information, contact info@neighborhoodscout.com.
About Location, Inc.
Location, Inc. is a leader in geographic data sciences, providing street-and address-level location intelligence and predictive analytics for businesses across the U.S. and Canada via web-based reports and streaming data. Since 2000, the company has amassed highly accurate and comprehensive catalogue of spatial data products, with complete, national coverage and sub-ZIP Code granularity. A pioneer in building micro-spatial data products, Location, Inc. specializes in real estate market insights and projections, and crime and hazard risk products for the real estate, insurance and finance sectors. More than 70 million people and businesses have leveraged the company's data products to make informed location decisions, fuel major investments, mitigate risk, protect assets, and uncover opportunity. For more information, visit www.locationinc.com.