Media Contact:
Marketing Department
Location, Inc.
Tel: (508) 753-8029
Email: marketing@locationinc.com
Charlotte Holberry
Eventive
Tel: (860) 938-0239
Email: charlotte@eventivema.com

FOR IMMEDIATE RELEASE:
Location, Inc.® Celebrates New Office Grand Opening at Mercantile Center
The geographic data sciences company continues to expand, relocating to the heart of Worcester's downtown business district
Worcester, Mass., June 6, 2018—Location, Inc., a leading provider of location-based analytics, joined with city officials and community members to celebrate the opening of its new headquarters at the newly-renovated Mercantile Center in downtown Worcester, MA.
Over 40 guests were in attendance, including the City Manager of Worcester, Edward M. Augustus Jr., and members of the Worcester Regional Chamber of Commerce.
"We could have moved our offices elsewhere but chose to stay and expand our high-tech company in Worcester because the city provides great access to key talent from local universities, combined with affordable living, growing amenities, and proximity to the train," said Dr. Andrew Schiller, CEO and founder of Location, Inc. "Worcester's promise of an increasingly vibrant downtown and business community makes it the perfect choice for our growing company."
Overlooking the Worcester Common, Location, Inc.'s Class A office space enables the company to accommodate its growing staff while offering easy access to transportation, dining, and entertainment amenities. This is a top priority for Location, Inc., which was honored by the Worcester Business Journal as one of the top companies for employee rewards and recognition in 2015.
"Our building at 120 Front Street is a strong strategic site for innovative businesses like Location, Inc. that are seeking a central vantage point in an urban setting close to a transportation hub and surrounded by neighborhood amenities. We are excited to welcome Location, Inc. and their employees to our downtown community," said Chip Norton, president of Franklin Realty Advisors, developers of Mercantile Center, when the company announced the move in November 2017.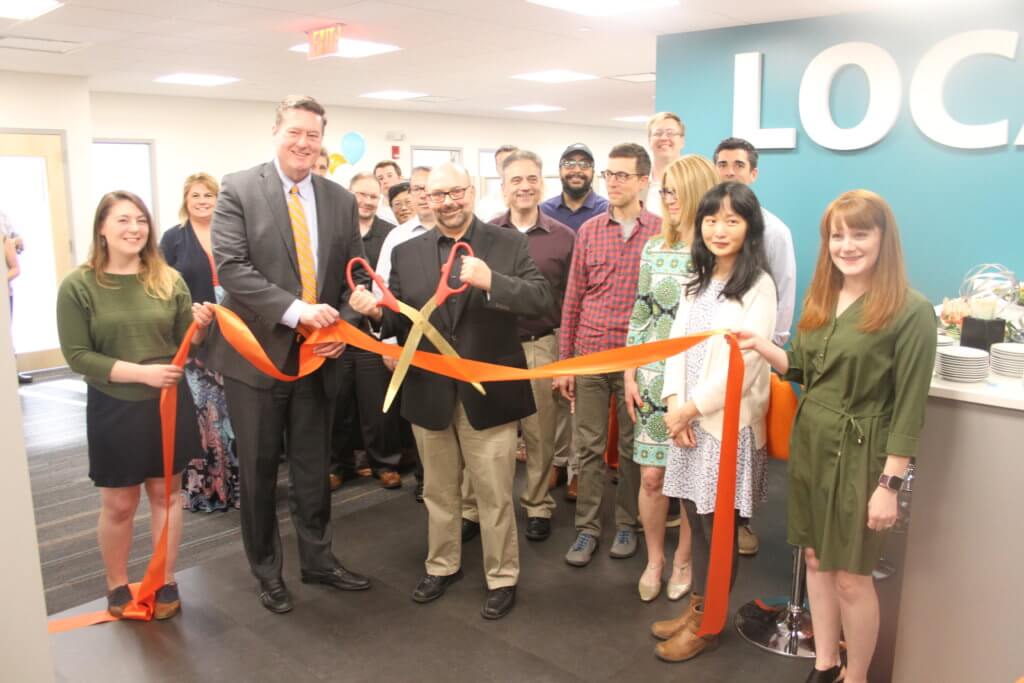 The office move marks the midway point in a busy year for Location, Inc. In addition to launching an enterprise data and analytics catalog for insurers, real estate investors, and businesses, Location, Inc. announced that its WaterRisk™ and FireRisk™ products, the insurance industry's first non-weather-related risk solutions, will be offered by CoreLogic.
For more information about Location, Inc. or the new office grand opening, please contact marketing@locationinc.com.
About Location, Inc.
Location, Inc. is a leader in geographic data sciences, providing street-and address-level location intelligence and predictive analytics for businesses across the U.S. and Canada via web-based reports and streaming data. Since 2000, the company has amassed highly accurate and comprehensive catalogue of spatial data products, with complete, national coverage and sub-ZIP Code granularity. A pioneer in building micro-spatial data products, Location, Inc. specializes in real estate market insights and projections, and crime and hazard risk products for the real estate, insurance and finance sectors. More than 70 million people and businesses have leveraged the company's data products to make informed location decisions, fuel major investments, mitigate risk, protect assets, and uncover opportunity. For more information, visit www.locationinc.com.