Media Contact
Marketing Department
Location, Inc.
Tel: (508) 753-8029
Email:marketing@locationinc.com
FOR IMMEDIATE RELEASE:
NeighborhoodScout® Reveals the Top 100 Most Dangerous Cities in the U.S. for 2018
 Annual Crime Rates by City Highlight Continued Difficulties Faced by Industrial-Satellite Communities Across the Country – in Michigan, Florida, and Beyond
Worcester, Mass., March 6, 2018 — NeighborhoodScout, a web-based platform from Location, Inc. that includes custom analytics and reports for investing, appraising, and financing real estate, released its annual list of the Top 100 Most Dangerous U.S. Cities for 2018.
The list compares the safety of cities with 25,000 or more people nationwide, based on the number of violent crimes (murder, rape, armed robbery, and aggravated assault) reported to the FBI to have occurred in each city, and the population of each city, divided by 1,000. This calculation provides a rate for violent crime per 1,000 residents, offering an accurate, normalized comparison of cities of different sizes.
"We continue to see a number of smaller, industrial-satellite communities struggle with crime," said Dr. Andrew Schiller, CEO and founder of Location, Inc. and NeighborhoodScout. "Limited economic opportunity plays a role in such communities and highlights the divide between the safe bedroom communities within large metro areas near major urban centers like Boston, Chicago, and New York, and the high-crime industrial-satellite communities."

Monroe, LA is representative of a number of communities on the list: It is a medium-sized city (population: 49,297) located around 100 miles away from two larger cities (Shreveport, LA, population 194,920 to the west, and Jackson, MS, population 169,148 to the east).
Compared to the rest of the nation, Monroe is lower middle income and has one of the higher rates of people living in poverty. The lack of a large business and economic center within decent commuting distance means residents have more difficulty finding higher-paying jobs. These factors contribute to the city's above-average housing vacancy rate and lower public school quality indices, which in-turn reduce economic activity and can make it challenging for a community to attract high-skill, high-paying jobs and retain skilled workers. A similar scenario plays out in Chester, PA, Homestead, FL, and other medium-sized communities in across the U.S.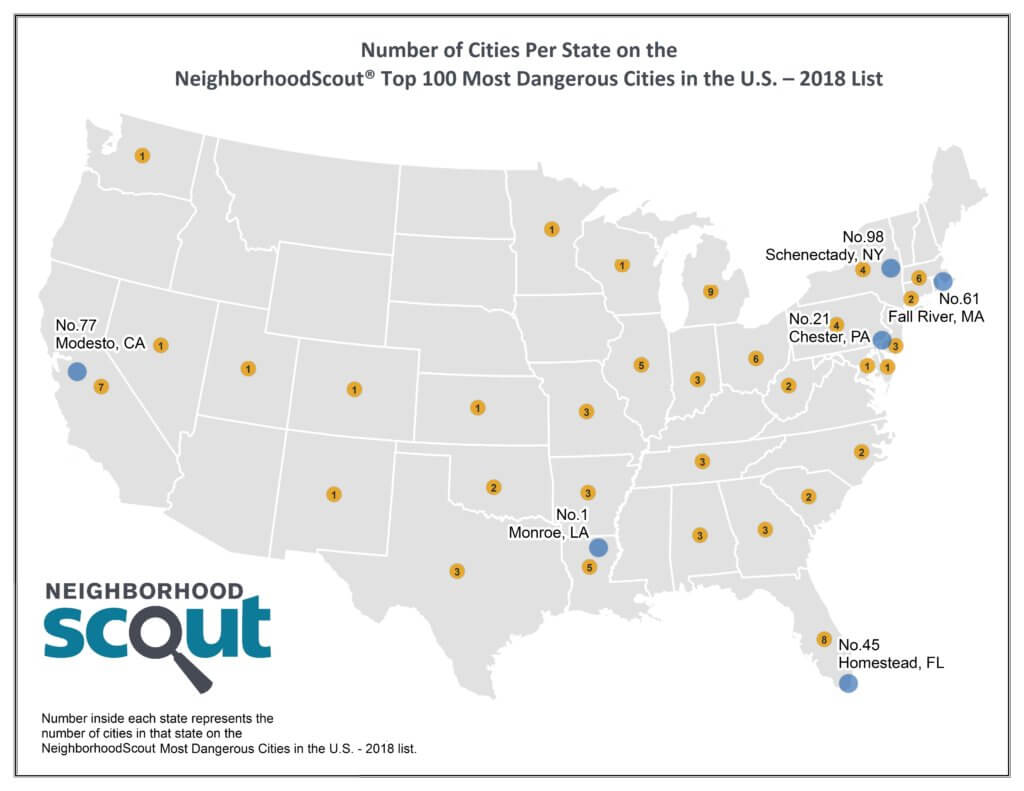 NeighborhoodScout's analysis of annual crime rates by city is the most comprehensive available because it factors in all reported crimes from all 18,000 local law enforcement agencies across the country. This is important because many cities are served by more than one agency (municipal police, county sheriff, transit police, etc.).
In addition, NeighborhoodScout uses the most recent crime data the FBI classifies as 'Final, non-preliminary.' This list is based on the 2016-year total data which was released in Final, Non-Preliminary form in September, 2017.
Visit NeighborhoodScout's Top 100 Most Dangerous Cities in the U.S. – 2018 to see the entire list and report. Visit NeighborhoodScout.com for subscription options, or contact info@neighborhoodscout.com for more information.
About Location, Inc.
Location, Inc. is a leader in geographic data sciences, providing street-and address-level location intelligence and predictive analytics for businesses across the U.S. and Canada via web-based reports and streaming data. Since 2000, the company has amassed highly accurate and comprehensive catalogue of spatial data products, with complete, national coverage and sub-ZIP Code granularity. A pioneer in building micro-spatial data products, Location, Inc. specializes in real estate market insights and projections, and crime and hazard risk products for the real estate, insurance and finance sectors. More than 70 million people and businesses have leveraged the company's data products to make informed location decisions, fuel major investments, mitigate risk, protect assets, and uncover opportunity. For more information, visit www.locationinc.com.