"How Big Data is Modernizing Insurance" is our first in a series of blog posts exploring how various industries are taking advantage of big data and analytics. To read more, download our entire eBook, "How Big Data is Changing Industries."
"Traditionally insurance has been a slow-moving business but the pace of change frankly in the past two to three years is something I've never seen before within the industry." – Seth Rachlin, VP Insurance at Capgemini
The Big Data Insurance Landscape
The U.S. insurance industry's net premiums written totaled $1.2 trillion in 2015, according to Insurance Information Institute. While that makes insurance one of the world's largest markets, the industry has remained largely untouched by technological advances.
That is about to change. As a result of tight profit margins and growing competition, many more insurance executives plan to take advantage of the benefits big data has to offer.
How Insurers will use Big Data
From weather patterns and demographic data to social media, new sources of data are helping insurers:
Streamline costs
Identify new customers
Get more targeted with the risks they want to underwrite
Predict fraud
Identify which claims have the potential to become very expensive
Furthermore, Klayton Southwood, Director of Risk Consulting at Willis Towers Watson, says insurance executives have "fairly aggressive plans" for developing big data analysis over the next couple of years. He cites the results of a survey the consultancy conducted in the U.S. last year.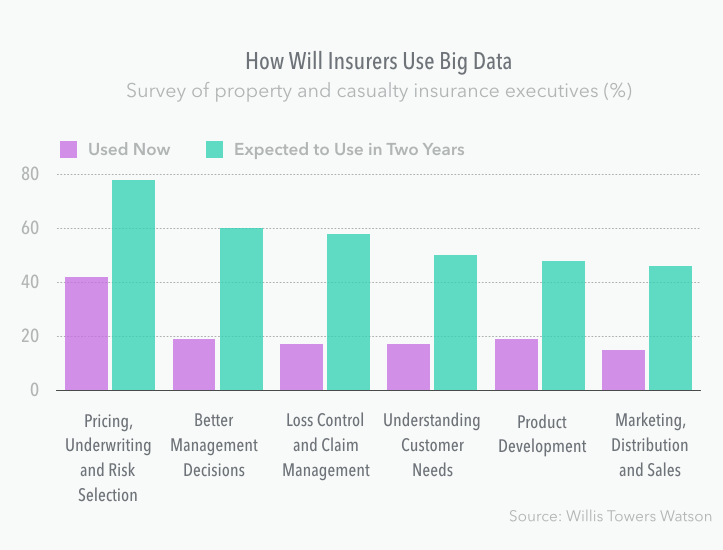 A lot can be achieved utilizing big data; some especially relevant uses are:
Pricing More Accurately, Fast. Insurers can collect highly valuable data, in some cases in real time. This enables them to make a more accurate risk assessment and offer more competitive insurance premium pricing, leading to better customer retention, and re-sculpting their portfolio-wide risk exposure by reducing adverse selection.
Tackling Fraud. Insurers can leverage big data to cut down on fraudulent claims through profiling and predictive modeling. Big data analytics allows them to match variables within each claim against the profiles of past claims which were known to be fraudulent.
Marketing. By analyzing all of the available data, insurance companies can gain a more complete understanding of customers. Therefore, they can become more efficient in matching products and services with customers' needs.
From better customer service to more efficiently priced premiums, big data will undoubtedly modernize the insurance industry in the years to come.