Media Contact:
Marketing Department
Location, Inc.
Tel: (508) 753-8029
Email:marketing@locationinc.com
FOR IMMEDIATE RELEASE:
Location, Inc. Launches Scout Vision® Enterprise
Provides a Looking Glass into the Future Value of Every U.S. Micro-Neighborhood™—at 10 times the spatial detail of a typical ZIP Code
Revolutionary Home Price Appreciation Forecasting Platform Projects 3-5 Years Out
Scout Vision Unveils Quarterly Report of Top 5 Metros Forecasted to Rise or Fall in Real Estate Prices Over Next 5 Years
Yuma, AZ Leads the Pack in Latest Metro Appreciation Forecast; Less Optimism for Bismarck, ND
Worcester, Mass., April 6, 2017 — Location, Inc., a leading provider of location-based analytics for real estate investors, investment firms, and mortgage professionals, announced the launch of its Scout Vision® Enterprise platform.
Only Scout Vision delivers home price appreciation trends and forecasts to the Micro-Neighborhood™ level, the finest resolution available on the market today.  A Micro-Neighborhood is nearly 10 times the spatial detail of a typical ZIP Code.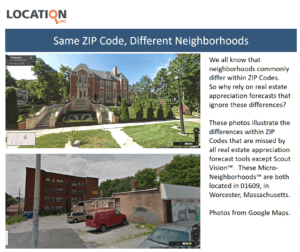 In conjunction with the launch, the company also unveiled The Scout Vision Quarterly Report: The Top 5 Metropolitan Areas Forecasted to Rise or Fall in Real Estate Prices Over the Next 5 Years. Revealing those metros forecasted to lead and lag, the report will be released quarterly with forecasts 5 years from the current quarter. For the first quarter of 2017, Scout Vision Enterprise predicts that real estate prices in the Yuma, AZ metro area will appreciate in value the most by Q1 2022.
"Sunny Yuma, AZ sits astride the California border, but it is remarkably affordable. Income here is enough such that the average house costs less than 3 years of the average income," said Dr. Andrew Schiller, CEO and Founder of Location, Inc. "The area is experiencing strong job growth, solid wage increases, numerous housing starts, and rapidly falling vacancy rates. Yuma is also a favorite among snow birds and retirees, a fact that bodes well for the metro as the oldest Baby Boomers begin to retire."
Scout Vision Enterprise predicts that the Bismarck, ND metro area will decline in value the most over the next 5 years, due in part to an historically high watermark recently achieved for a lack of housing affordability and a nation-leading rate of housing starts combined with a drastic increase in vacancies.
With seamless national coverage, Scout Vision Enterprise provides precise 3- and 5-year home value and appreciation rate predictions for Yuma, Bismarck, and any other metro, ZIP Code, or Micro-Neighborhood in the U.S., via API access. Three- year forecasts are also available on a web platform.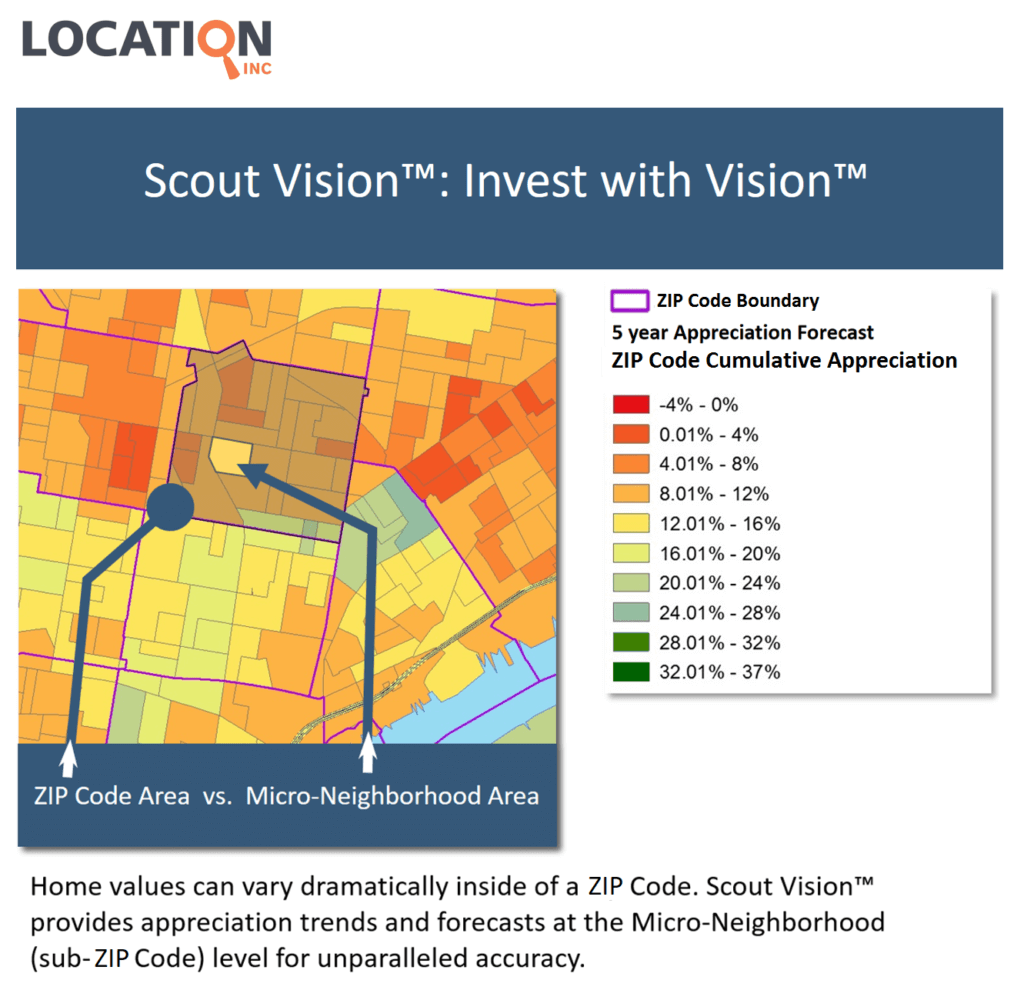 "The ability to process a large volume of property appreciation data points is mission-critical for REITs, banks that handle non-performing property loans, and others who manage extensive property portfolios," said Dr. Schiller. "This capability is now available with Scout Vision Enterprise."
Demonstrating the predictive capabilities of the new technology is Scout Vision's Top 10 Locations with the Highest Real Estate Price Increases Over the Last 5 Years. If you had invested equally across these locations in 2011, you would have averaged a return of 74% in 5 years. In contrast, the national average return was just 23%—less than one-third the return you would have realized.
Investors and mortgage bankers have typically used historical appreciation rates as a "baseline" for future performance or broad-based ZIP Code-level data that doesn't take into account all-important local neighborhood trends.  However, there can be dramatic differences in home price appreciation within a ZIP Code, and no other tool that forecasts home price appreciation captures this critical information.
Contact Location, Inc. to learn more about Scout Vision, or request a data sample for up to 10 addresses of your choice.
About Location, Inc.
Location, Inc. is a geographic research and data mining company, born of university research, and a leading provider of location-based data and tools used by corporations for risk analysis. The company specializes in location analysis, quantifying and mapping of crime and security risks, structure fire risk, demographic and school data information products, and location-based decision-making tools for businesses and consumers. More than 65 million people and businesses have used Location, Inc.'s data and services since its 2000 inception. For more information, visit www.LocationInc.com.